Rihanna might be one of the most famous pop stars of the present generation but she's just another hopeless romantic when it comes to the matters of the heart. The 24 year singer recently got a new tattoo on her body to proclaim her support for Grammy-award winning singer, Chris Brown.
According to reports from various media sources, the 'Diamonds' singer has got a tattoo stating Brown's nickname 'Breezy' on her skin to cherish her on and off rapper boyfriend. Brown is famous for labeling his rabid army of fans as Team Breezy.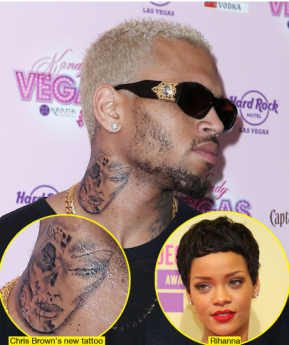 Love in a Hopeless Place
The Sun newspaper quoted a source close to the situation as stating that Rihanna got the tattoo to show the world that she is still deeply committed to him. Now that all of their fans are aware that the couple is back together, the two have made up their minds to make the relationship work at any cost.
The couple had earlier called it quits back in the year 2009 after Rihanna was violently assaulted by Brown. The two young musicians were famous for their notoriously passionate and carefree relationship. But after the physical attack, Rihanna had a restraining order drawn up against Brown who was not allowed to come within a certain distance of her. He briefly dated Karrueche Tran, a model, before dumping her. Rihanna patched up their past relationship and the couple has remained inseparable ever since, with the Barbados-born singer even flying out all the way to Germany to spend some time with Brown while he was on tour. The intimate images the couple regularly post of each other on Twitter is proof enough of the fact that they have rekindled the romance of their past.
Tattoo Mania
Rihanna already boasts of 20 different tattoos on various parts of her body. She considers each of them to have some sort of special significance.  The Bajan hottie last got an ink depicting Isis, one of the most famous goddesses of the Egyptian mythological pantheon, renowned as the symbol of the wife and mother. The tattoo was supposed to have been a tribute to Clara 'Dolly' Braithwaite, her late grandmother. Another infamous tattoo is present on her neck simply saying 'Rebelle fleur', which, incidentally, is also the name of her perfume brand.
She has stated in the past that all of her tattoos are spiritual and showcases her feelings on religion. She claims to be a rebel through her fashion, music, tattoos and her hair.