Tattoos and body art were an integral part of how the Aztecs operated on a daily basis. What they had tattooed on their bodies played a part in their worship of the sun and contributed to their all-round way of life through a variety of creative displays. One look at most tattoo design guides highlights the array of designs to emerge from the Aztecs too, such as patterns, motifs and geometric structures. It can be a great look.
Black and grey generally dominate this particular area of expertise when it comes to tattoo artists' work and the style of Aztec tattoo you might want in the future, but it could potentially be altered depending on what you prefer. Ultimately, though, this is a style with great detail behind it. From warriors, women and Aztec eagles to ancient cities, totems, and weapons, there are plenty of designs to assess. You can certainly read books or even tackle games based on the Aztec Civilisation for some inspiration, too. As stated, though, black and grey are generally the favoured option when considering some Aztec ink, but the design you decide to go with can go a number of ways. Below is a look at four great Aztec tattoo designs.
1. Popular Aztec women designs
Whether you're keen to explore the idea of having a stunning Latinx woman wearing an Aztec feathered headdress on your arm or you like the idea of a more abstract design of a lady with various other pieces of Aztec work surrounding a design on your back, Aztec women can make for truly wonderful tattoos. Women from those times were generally considered to be fierce and brave, perhaps even more so than their male counterparts, with females being depicted as both strong and beautiful. If you can nail down a design that incorporates both of those qualities, then you'll be onto a winner.
2. Aztec warrior tattoos are favored by many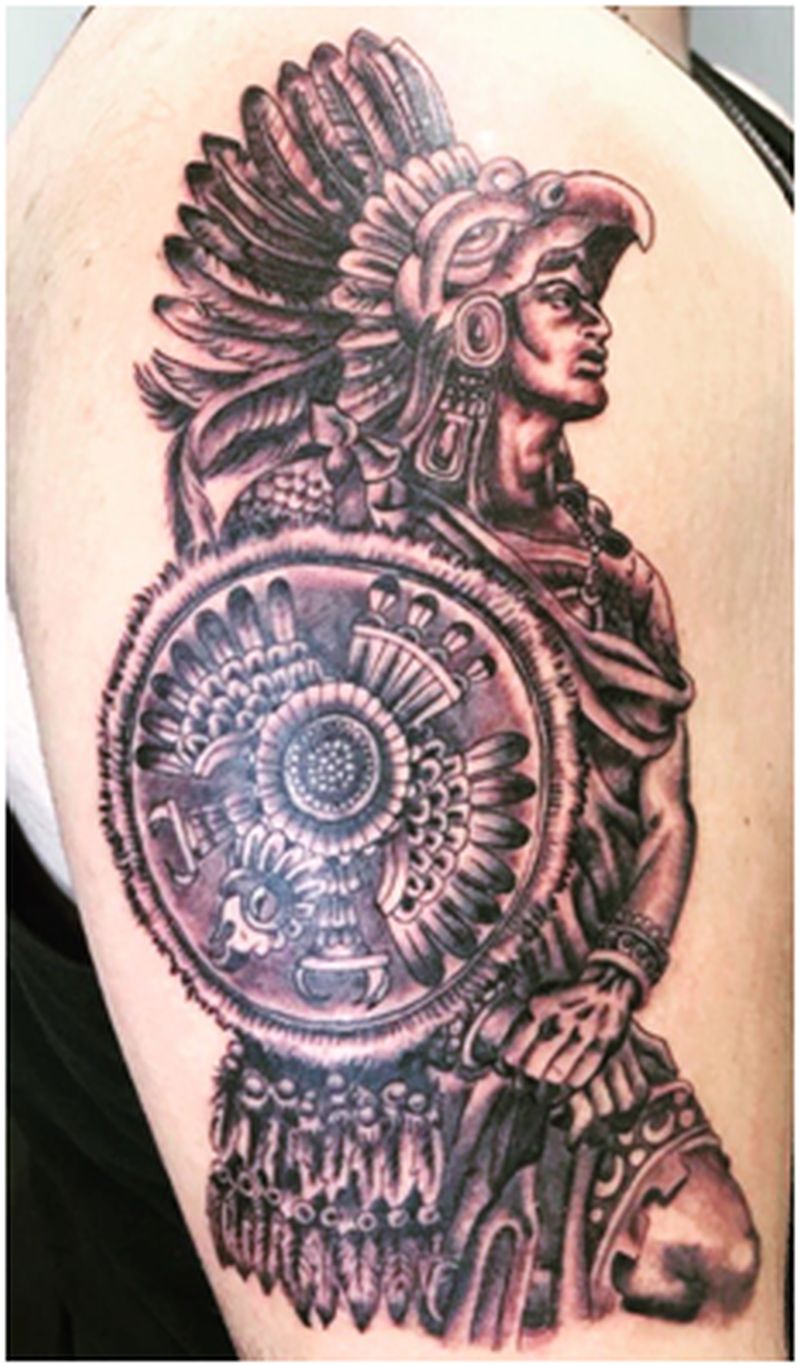 When most people consider getting an Aztec themed tattoo, it can be down to the warrior appeal of the genre. There are many paths you can potentially go down, too. Popular designs tend to incorporate warrior chiefs, ancient temples, jungles, and black specked jaguars, but there are so many options in this particular category. Black and grey is certainly the way to go, though.
3. Heavy line work can make a sun tattoo sing
Another popular Aztec design is an Aztec sun tattoo which generally requires heavy-duty line work to really help the design pop and to enable it to look more authentic. A touch of white ink can be incorporated into specific designs also, generally contributing towards a cleaner design and helping any shading sing. If you want a truly traditional Aztec design, then you can't really beat a Sun God, something which the entire Aztec Empire worshipped and was central to their way of life.
<iframe width="560″ height="315″ src="https://www.youtube.com/embed/tGEBu0rP9Yw" title="YouTube video player" frameborder="0″ allow="accelerometer; autoplay; clipboard-write; encrypted-media; gyroscope; picture-in-picture" allowfullscreen></iframe>
4. Aztec animals can look incredible
When assessing popular body art from over the years, animals are most definitely up there with the most common designs of the lot. Lions have always been popular, as have snakes and even coy carp as part of a sleeve. Aztec animals can certainly be more interesting than some of the aforementioned generic designs a lot of people go with. For example, falcons are particularly popular in this space and can look fantastic if executed well. Other popular animals from Aztec culture include frogs, monkeys, eagles, jaguars and bears. Certain animals have different meanings too. For example, eagles, jaguars, and bears are symbols of fierce bravery and strength, two ingredients any successful and fearsome warrior would require in order to succeed.
Article Submitted By Community Writer