The interest in tattoos especially the kind of big landscape tattoos will wane as people get older and see that their 20 or 35 year old tattoos don't look nearly as beautiful as they did when they were freshly done. Also, tattoos tend to look better on young, taut skin than on older, wrinkled skin. Tattoos are popular in parts of the world where they never were before, and among people that may have never dreamt of being tattooed. The trends of tattoos keep on changing and it is exactly like fashions where it changes every season. The problem with permanent tattoo is that once you get it, it is very difficult to remove it.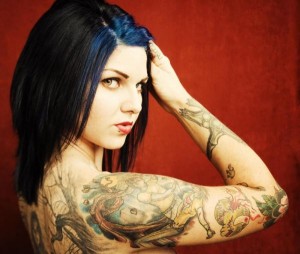 Tattoos Are Permanent But Trends Are Temporary
If you are planning to get a tattoo then this is the problem that you need to consider. If you are getting a permanent tattoo you need to make yourself ready to undergo the pain as the needle pierce through the body. But then when the trend changes, you can't change the tattoo because it is permanent. The trendiest thing about tattoo now is infinity symbol with words but last year it was lettering. The other popular choices are birds, feathers, flowers, matching hats and other pin interest discoveries. The female customers usually ask for tattoos that are Pinterest-related. 80 percent of student walk-ins asked for trendy tattoos, whereas locals sought out more custom, elaborate tats.
Tattoos have existed for centuries and it is an extraordinary art form physically, culturally, spiritually, technically and creatively. The process to make tattoo is not easy. It is difficult and also time consuming. You need creativity and technical skills to make a good tattoo.  Now a day it is better hygiene, better equipment and better inks. Artists have honed their skills and there are more varied creative styles and expressions.
College is a time of extreme self-discovery. You try on new design until you have established your tastes. Oftentimes, the people you strive to impress as freshman is not the friendships that stick through college and beyond, yet you make permanent alterations to your flesh based on what is fashionable to the people we associate with. If you're ready to ink up, choose artistry and originality over indelible fads. Your flesh is unique and deserves art that is equally as special. So instead of going after trends it is better to do something really special for you.