Today tattoo culture is gaining popularity and almost everyone either has a tattoo or wants to get one. Tattoos are popular in parts of the world where they never were before, and among people that may have never dreamt of being tattooed. The trends of tattoos keep on changing and it is exactly like fashions where it changes every season. The problem with permanent tattoo is that once you get it, it is very difficult to remove it. People get such tattoos engraved on their body to which they can closely relate and find a relative meaning of. The colorful and lovely body tattoos add a sense of appeal and a new look to one's personality. Pretty, enchanting and chic tattoo designs make a lasting impression on the mind. There are different areas where you can get a tattoo done, the most popular are arms, legs, neck and back. Why don't you try cute animal tattoo? It will be cute to look at and also make you feel happy. Get a cute tattoo which has some meaning.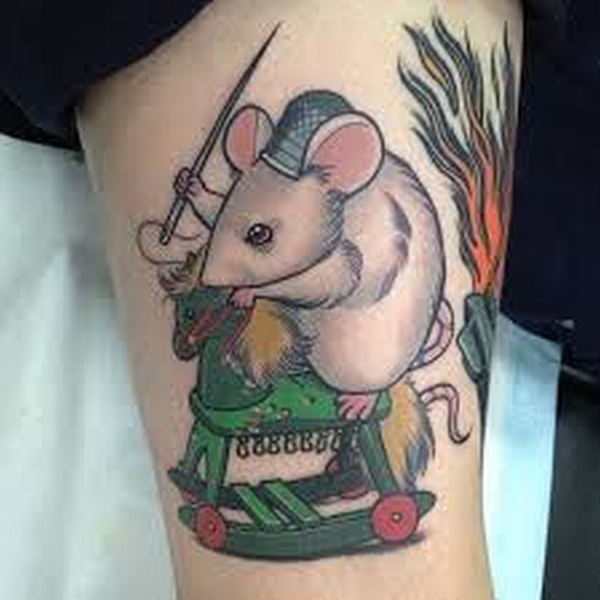 Cutest Animal Tattoo
Animal tattoos are lovely and a great option for people who love animals. There are a variety of tattoo designs to choose from, among which you can find different cute animal tattoo designs. Nowadays your options when it comes to the design and color of your tattoo are endless, so you can choose to get a portrait of your pet or choose an interesting design which incorporates your favorite animal. Artists have honed their skills and there are more varied creative styles and expressions. You need to keep in mind that the tattoo will cover your skin permanently so making the right choice is a must if you want to be satisfied and proud of your cute animal tattoo design or any other design you choose. Dogs, horses, cats are only a few of the most common animal tattoo designs to choose from so if you love your pet, an animal tattoo could be a great tattoo idea.
There is one tattoo which is cutest of all which is of a mouse riding a tiny rocking horse. The other fact that makes the tattoo even cuter is that the mouse is holding a sewing needle as a sword and also got a huge determination on its face which makes it look adorable. So if you are still searching for a cute, you can try this again.