With Halloween, it is always time to search for a one of a kind costume to stand out in the party. In addition to choosing the best Halloween costume for your scare fest, consider accentuating the same with these really scary looking Halloween tattoos.
Black and Gray Pumpkins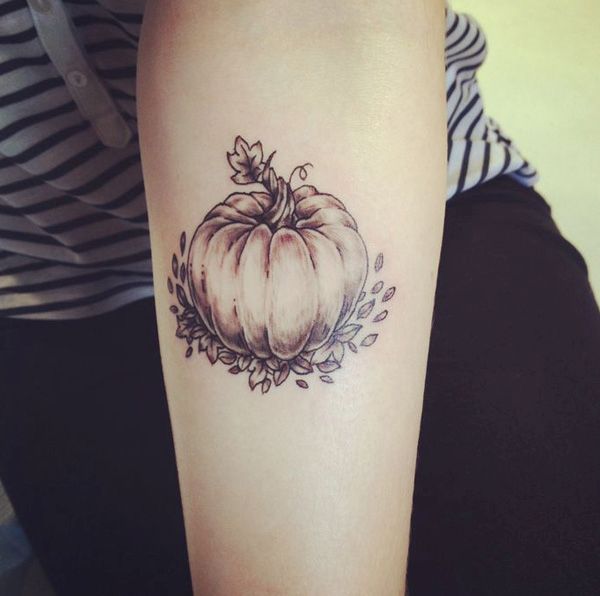 Image Source : Cuded.Com
What's Halloween without the traditional pumpkin? And what better way to make your point clear than having a pair of really creepy looking pumpkins tattooed on your hand? Scarier yet, ditch the color and choose a black and gray palette that will help you play with shades nicely. Want to make it even scarier? Complement the pumpkins with a creepy looking twisted tree, a bright full moon and a cemetery in the background.
Haunted House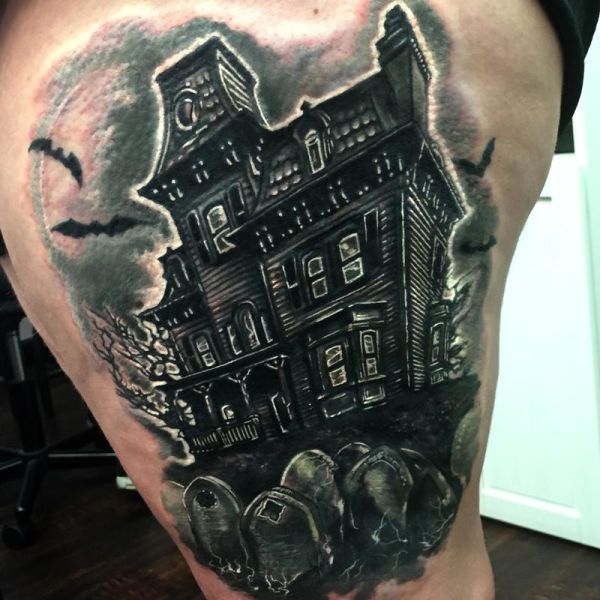 Image Source : Askideas.Com
Have a little bit of empty space on your arms? Consider tattooing a really scary looking haunted house on it? Add some bright colors to make it more vividand put in some shades to make it look creepier.
Headless Horseman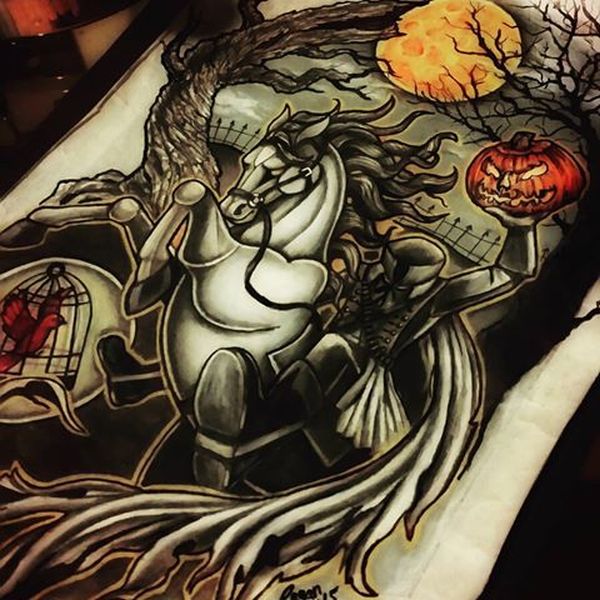 Image Source : Scontent.Cdninstagram.Com
Remember the chills that ran down your spine when you watched the headless horseman in the movie? Why not pass on those chills to everyone around you by getting a killer representation of the famed headless horseman on your sleeve.
Decaying Faces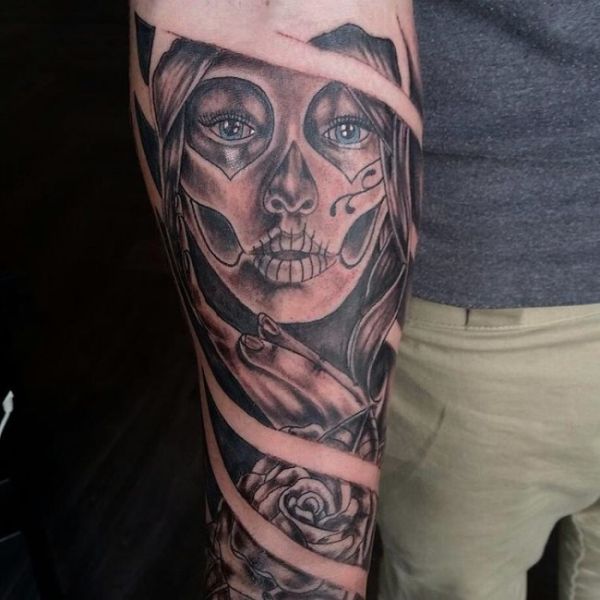 Image Source : FabulousDesign.Net
With ghouls and ghosts doing the rounds on Halloween, it only pays to have a couple of their faces tattooed on your body. Consider having one face done on each finger, thus making it easier for you flaunt your fingers in true Halloween horror!
Scary Scarecrow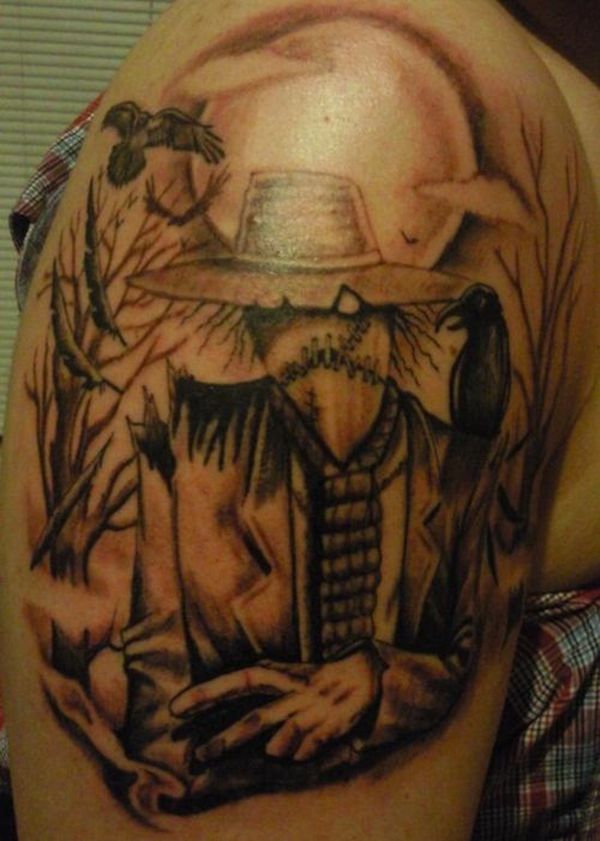 Image Source : Tattooeasily.Com
Scarecrows have forever more, frightened the hell out of us in horror movies. Let's take a real life adaptation of the same and showcase it on the arms. A really scary looking crow will look awesome on your sleeve. Throw in a crow for extra spookiness if possible.
Cordelia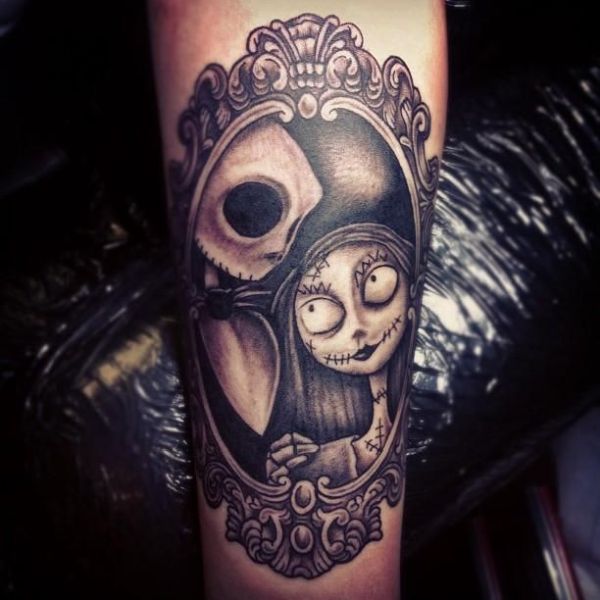 Image Source : DesignBump.Com
Now we are not that sure of who this Cordelia is. But one look at her face and you will be scared out of your wits for sure. The extremely scary looking face will look absolutely horrifying on your arms.
The Full Story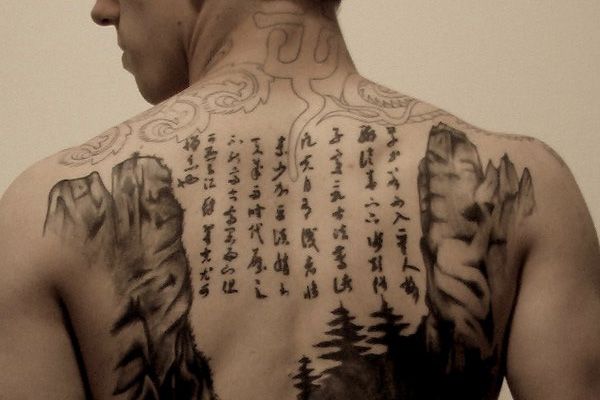 Image Source : Slodive.Com
Have plenty of empty space on your back? Then transform it into a canvas of sorts by tattooing an entire Halloween story on it. Make sure that you add plenty of horror elements like carved pumpkins, scarecrows, haunted houses, cemeteries, monsters, pumpkins, ghouls, ghosts and the likes, all illuminated by a bright full moon.
Psychedelic Halloween Tattoo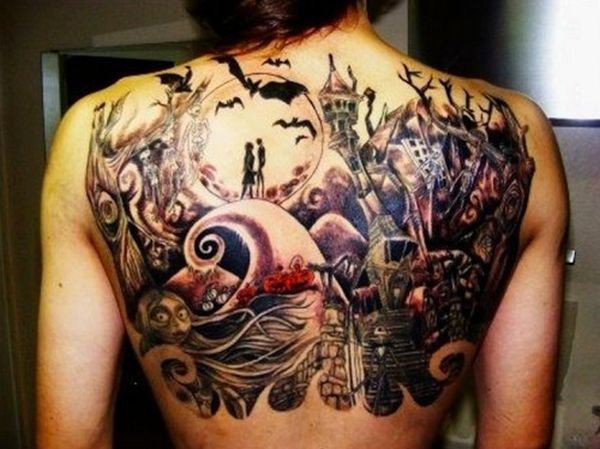 Image Source : Pluslifestyles.Com
Let's finish off the list with a unique Halloween psychedelic tattoo, complete with contrasting colors that dance in true horror against a plain black and white background. Let your mind fly and make it as scary as possible with as many Halloween effects as possible inscribed in it. 
Halloween is the time to showcase your spooky side via some really scary looking tattoos. Take your inspiration from these tattoos that will really spook the living daylights of everyone who sees them.