Supporting the losing side in the race for political ascendency may seem to be hard enough, but a certain supporter of US Governor, Mitt Romney, boasts of a permanent reminder of the unsuccessful presidential bid of the Republican.
Eric Hartsburg seems to have made headlines for all the wrong reasons. The Indiana resident in a show of loyalty went out and got the logo for the Romney campaign tattooed right on his face.
In spite of the loss of Romney in the US presidential elections some weeks ago, Hartsburg claims that he has no regret. In an interview with politico.com, the 30 year year-old Hartsburg stated that he was a tattoo enthusiast. The experience, according to him, was nothing short of fun.
Tale behind the Tattoo
Hartsburg was very clear in expressing his motives – he was just attempting to add a bit of fun to politics. He had no intention of changing lives. He has no intention of being a hero; however, he shed his blood for the sake of the campaign and simply knowing that he did everything he could to make the campaign a success makes him very happy.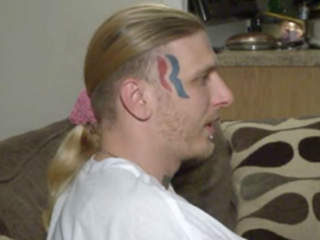 The tattoo was definitely a surprise for members of his family. The professional wrestler was careful not to make any mention about the tattoo to his wife, another Romney supporter, until he had about an hour left to get it done. Hartsburg admits that she was taken aback by the idea from the get go. But, Hartsburg gained support from unlikely quarters – his 15 year-old son. It appears that the cool idea of getting a tattoo done on the face appealed to the young boy.
Dealing with Defeat
Hartsburg does not make any attempts to hide the fact that the defeat of Romney at the hands of incumbent President, Obama, left him extremely disappointed. Hartsburg jokes that he was the guy who had egg all over his face. Only, instead of egg, it happened to be a large Ryan/Romney tattoo. The tattoo will remain inked on his face for life.
The Republican held hopes that the tattoo would lose its relevancy only after a period of four years had passed. But he is quick to claim that he will not be either removing or covering up the tattoo, which he calls the "R masterpiece", etched onto his face.
Hartsburg has reason to believe that the tattoo may come in handy in another four years when Marco Rubin will run for presidency in 2016.