In an ever-changing world of appearance and fashion, one thing seems to be evident: body modification is a common theme among people of all ages. Years ago many piercings and tattoos of today would be considered taboo, but now if you don't have a piercing or tattoo, you are out of the norm. We even see tattooed celebrities and style icons appear on the tabloids and in magazines, many even pointed out for their unique skin art style and what new tattoo they are showing off now. It's becoming more and more common to be known for your tattoos rather than having to cover them up to look more professional.
Some brands only hire tattooed models – some of these brands base their designs and images from original works of art that were turned into tattoos, and the list goes on. Artists from all over the world have new career options in doing tattoos for a living. It's a pretty good gig, too – you can make great money, travel to other destinations to guest tattoo, meet new people who in many cases share similar interests, and you don't have to work at a typical day job environment.
Like any other form of art, learning from a team of professionals is the best way to go. Online courses in tattooing just won't be adequate. At A.R.T. (The Academy of Responsible Tattooing), you will learn the skills needed to set-off your career in the body modification and tattoo industry.
At the Accelerated Tattoo Apprenticeship program, each student goes through four phases of the learning process. They begin with Phase 1 – A Flash Portfolio. This phase includes drawing, shading, generating reference, watercolors, line work, and working with colored pencils. Phase 2 is Technical Tattoo Skill which entails developing shading and script techniques. Phase 3 is where the students get to put their practice into action with supervised tattooing. Students will do many supervised tattoos to get real-life experience. Phase 4, probably the most important and rewarding phase, is Apprenticeship Employment. Like with any internship or apprenticeship, the probability of getting hired or recruited to another shop is high based on the dedication and work of each student.
Generally, body piercing apprenticeships and tattoo apprenticeships go hand-in-hand, but they don't necessarily have to. If you want to learn the skills needed to become a professional body piercer, A.R.T. also has the program for you.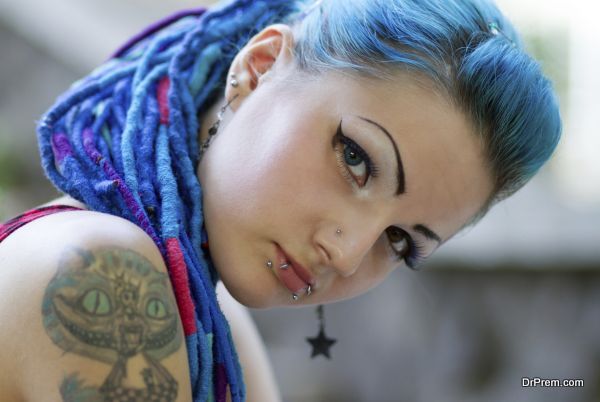 Their Professional Body Piercing Program covers piercing and placement techniques, jewelry management, hands-on practice with needles and clamps, tool maintenance and functionality, portfolio building, cross contamination prevention, certified Red Cross Blood Borne Pathogen, sanitation practices, preparation for New York State License Exam, a working knowledge of all shop practices, and more. You will also learn about proper aftercare and infection prevention, get to create and keep a portfolio of executed piercings, and will leave the program certified as Professional Body Piercers by A.R.T., ensuring that you are ready to go into any shop anywhere in the world with the confidence and skill to do piercings at a sanitized, effective, responsible, and professional way.
A.R.T. has four locations – Brooklyn, Jersey City, Los Angeles, and Philadelphia – in the United States to meet the needs of students near the east or west coasts. Furthermore, the school guarantees placement for all their students within an A.R.T. affiliated tattoo studio after completion of one of our programs.
If you have a passion for drawing and would like to be able to bring your drawings to life as well as create unique pieces for clients, becoming a tattoo apprentice could be the gig for you. After all, there is nothing like the feeling of putting a beautiful piece of artwork permanently on someone's body and seeing their reaction when it is complete.
Article Submitted By Community Writer