You might think that there is an 'all good factor' about these cute girls and hunk men! But it is probably not so. Celebrities have often been surrounded by stupid things hovering around! The latest threat to these celebrities is the fact that now their fans have started hooking up their eyes onto their favorite celebrity tattoos. Listed below are some of the worst and possibly, the most offensive celebrity tattoos ever!
· Amada Seyfried's nickname
A recent turn-on that Amanda has faced is regarding her sweet nick-name, inked onto her pretty ankle. You won't be able to clearly see it! But take a close look and you will find that Amanda's nick-name is actually Minge! Now let me explain what Minge actually means. It is an English slang that signifies the female genitalia! Now is that not really offensive?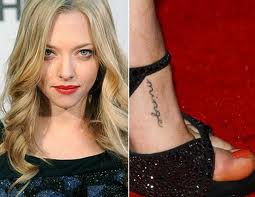 · Angelina Jolie's love
This beautiful lady has a lot of fame and fancy about her! And equivalent is the amount of cloud of personal flings! While Billy Bob had been fortunate about spending quite some time with Angie, his name, it seems is more fortunate! Even after breaking off from her former husband, Jolie still has his name inked onto her arm! Shall we call it retrospection or offensive foolishness?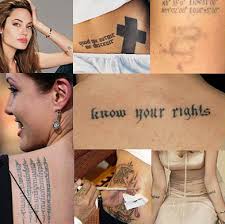 · Dean McDermott's semi nude wife
The third, most hilarious one is that this actor's love for his wife has prompted him to ink her on his arm in just the attire he would love to see her in! But he should have realized that there are certain thing that are better kept private! The star recently flaunted Tori clad in a bra! That is seemingly offensive! Well, prospective happy realization Dean!