Justin Bieber needs no formal introduction as this young man has gained a lot of popularity at a very young age. He is a known singer and has fans all across the globe. Justin Bieber has made the news for both good and bad reasons and recently he was in the headlines for his new tattoo which happens to be a fish. Yes, you read it right. It is not the first time that Justin Bieber has got inked but this tattoo is special because it was inked for good luck for the young singing sensation.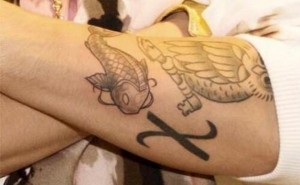 Justin Bieber showed the world his new tattoo which is a koi carp design this weekend in Denmark. Justin Bieber was facing certain troublesome issues in the recent past but the singer has decided to move ahead and leave his worries behind him. This new addition to his list of tattoos is a symbol of good luck and everyone knows it. This good luck fish is inked on one of his arm and this tattoo is very popular among the celebrities. Justin Bieber is not the only star who has this fish tattoo on his body as Lady Gaga is also on this list.
Lady Gaga too is a singing sensation famous all over the world with millions of fans. She also got inked with the tattoo for the same reason. Tattoo artist, Luca Ortis said that whoever gets this particular tattoo on his body is symbolic of the fact that he has been blessed with good luck and good fortune. Luca explained further and added that this fish tattoo is indeed the symbol for determination and courage. Justin Bieber has joined the list and got himself a koi fish tattoo for the above reasons obviously.
Luca Ortis also told that whoever wishes to get this tattoo is actually sending a message to the people that he is strong and has the courage to face the troubles in his life. The news of this new tattoo of Justin Bieber came as good news after a series of bad ones. Justin was involved in not one but many bizarre incidents and was having a hard time in his life. But the things are looking good for the young singing star Justin Bieber now and why not as he has the koi fish to give him all the good luck he wants!