It is a peculiar phenomenon. Tattoos and other kinds of body art were once a ritual, a ceremony that everyone and anyone who is a part of a group had to go through. Even today, this is an accepted practice in many tribal communities across the world. Interestingly, if taken at face value, this should have been regarded as an example of social confirmation; but instead it has become a symbol of world. Their numbers are mainly concentrated in the cities where tattoo parlors are easily available.
Tattoos are an ancient art-form. But they've gone through a period of revival. Earlier tattoos were those of the names of the recipients or they were religious in nature. There was a times when tattoos were frowned upon. Maybe, it had something to do with the fact that criminals and animals were branded. But without an exception, they had a sinister element. However, nowadays they have assumed various meanings.
People are more open about tattoos today but they are still not acceptable everywhere. Many organizations and institutions may refrain from awarding admission or candidacy to individuals who have tattoos on the visible parts of their body. It still has a harmless deviancy associated with it.
After all, a tattoo is a painting where the canvas is your body; it is a permanent mark on your skin. Either it could mean something or it could be a passing fad. Trends change every day and new fashions are created all the time.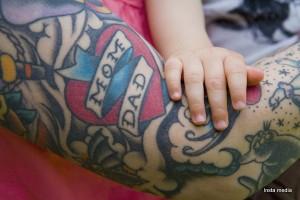 Sometimes tattoos are made to mark an important event or in remembrance of someone who matters. It could be symbolic in nature or simply a fancy design. Whatever the cause, youngsters seem to be lapping it up. It has become part of their sub culture. It is something that helps them stand out in a homogeneous crowd while making them a member of cooler phenomenon.
It sets them apart while rewarding them with individuality at the same time. While it is true that there are some health risk involved, safety precautions can be taken to reduce the risk. It is best to visit a legal and experienced tattoo artist. Also, important is to remember and invest a lot of thought and time into making the decision to get a tattoo.  As they say, life may be transient but tattoos are permanent.
Forever is the word that comes to mind when one thinks of tattoos. So, it is better to refrain oneself from getting branded on a whim. It is not surprising that many people who get inked feel very emotional about them while declaring that there is a connection that cannot be explained or described to an outsider. Observing the present opinions and trends one thing is certain. Tattoos are here to stay for a very long time.