Wrist tattoo designs are the most trendy tattoo designs available in the tattoo market. Wrist tattoo can be covered with jewelries and watches if you do not want them to display at some point of time. As they are tiny in size, they look pretty on the wrists of both men and women. Tattoo artists believe that wrist tattoo should be done on the inner wrists as it show a little bit of personality yet provides an excitement about the mystery of the complete body art. If you do not want to show off your tattoo or make a huge statement by displaying your tattoo, you can always go for the wrist tattoos. The designs of wrist tattoos are usually very tiny and cute looking. The designs might vary from crosses to message texts.
Let us discuss few of the wrist tattoo designs that suit your wrists the most.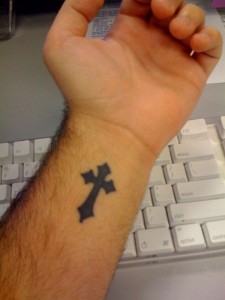 Cross
If you are very inclined towards your religion, you may go for the Holy Cross design on your wrists. There are various styles with which the cross can be designed. It represents your faith and respect towards catholic religion. You can always give a jewelry design around the cross tattoo on your wrists.
Sun Dials Tattoo
Sun dial tattoo designs are the most practiced wrist tattoo all over the world. The concept behind this tattoo is to represent your self-belief. Sun usually symbolizes power, resource and character of an individual. This impression can be tattooed on your wrist in many designs. However, the design credit goes to the efficiency of the tattoo artist.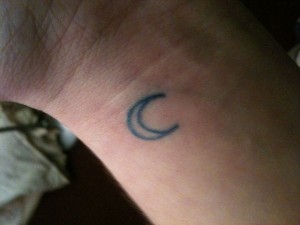 Half Moon Tattoo
The moon represents peace. The half-moon tattoo design may portray the peaceful side of an individual. It speaks about the nature, beliefs and character of a person.
Mehendi Tattoo
Mehendi tattoo is gaining popularity worldwide now. Mehendi is a form of body art that is practice rampantly in rural areas of India. However, it has gained popularity globally later on. Mehendi tattoo solves the problem of applying Mehendi repeatedly on the wrists as it fades in a few days. So if the tattoo can be done with a pretty Mehendi design, it would not bother the Mehendi lovers to waste time creating the design time and again.
Birds Tattoo
Birds symbolize freedom and if you want to express your freedom without uttering a single word, you can go for the bird tattoo.You can get the design of a single bird to a flock of birds flying together.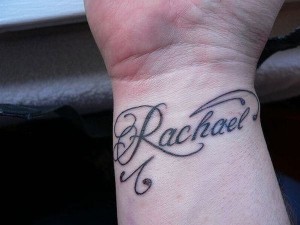 Alphabet Tattoo
Alphabet tattoos represent your love towards your near and dear ones. If you want to display your love towards your spouse, beloved, parents, kids, siblings or friends, the alphabet tattoos provide you the most convenient way to do so.